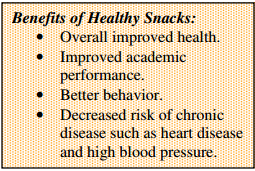 Over the past decade, we have learned a great deal about the relationship between poor diet, inactivity, and disease. We now know that healthy eating and physical activity patterns during childhood and adolescence not only promote proper growth and development, but also can lead to overall improved health and decreased risk of heart disease, diabetes, cancer, and obesity. Studies have also shown that healthful eating can lead to better school performance and behavior. Providing healthy, inexpensive snacks is one way that you can directly improve eating and activity patterns in the children in your after-school program. So let's take action!
What Are Healthy Snacks?
Children and adolescents who are hungry usually aren't having much fun and can't focus on what they are learning. Healthy snacks give students the energy they need to focus and participate in school. Serving healthy snacks to hungry students who haven't eaten since breakfast or lunch time sounds like a good idea... but what exactly is a healthy snack?
In the interest of promoting the overall health of Phoenix Middle School students, we suggest the following examples of healthy snack alternatives. This list (not complete) has been created under the simple guidelines of decreasing calories from sugar and fat, while increasing students' consumption of whole, nutritious foods.
Water (reusable bottles)
Fresh Veggies
Fresh or frozen fruit
Cottage cheese mixed with cinnamon or honey
Fruit cups in natural juice
Apple slices with caramel
Low-fat muffins (banana, blueberry, bran)
Banana or apple chips
Low-fat or low-sugar oatmeal cookies
Low-fat vanilla or banana pudding
Frozen juice bars
Pretzels or baked potato chips
Reduced fat cheese crackers
Real cheese cubes with Saltine crackers
Granola or Nutri-Grain bars
Rollups (lunch meat and sliced cheese rolled up with fat-free cottage cheese in the center)
Yogurt or Gogurt (refrigerated or not)
Bagels
Rice cakes (any flavor)
Cereal or cereal bars with low-fat or skim milk
Raisins or Craisins
Whole grain English muffins
Animal crackers
Graham crackers
Wheat crackers
Fig Newtons
Vanilla Wafers
Low-fat string cheese
Frozen yogurt
What NOT to bring as a snack:
Soda (like Coke, Sprite, Pepsi etc. - Diet of otherwise)
Energy drinks
Candy
Potato or (other processed) snack chips