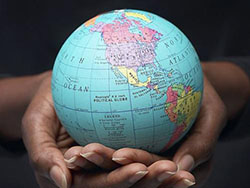 Travel tours allow Phoenix students to actually see and experience countries, cities, sites, and landmarks. They go beyond simply reading about, researching, and taking in information from their teachers about these places. Making learning connections is greatly accelerated when students travel. Teachers and guides of student travel tours make student safety a priority and take it very seriously to make the tour a positive experience for all students.
"Travel brings the classroom curriculum alive, inspiring students to learn through first-hand, interactive experiences. Travel motivates students to achieve and improves academic performance. Travel teaches an understanding of other people, communities, and cultures. Travel offers educational opportunities for a shrinking globe. Travel helps young people gain self-confidence, a sense of independence, and a feeling that they can make a difference in the world. A group travel experience is one your participants will remember for the rest of their lives." - Student Youth Travel Association
Travel is an extremely important component of the Phoenix experience. We offer choices of travel locally, regionally, and internationally.