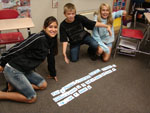 The Social Studies curriculum is designed for students to accomplish multiple objectives. Students will learn major concepts and themes from the following curriculum areas including: History, Geography, Economics, and Government. Throughout the year, they will continue to develop and implement thinking, writing, reading, and listening skills within a social studies context. Through the social studies curriculum students will continue to develop and apply skills in information gathering, organization, discussion, and presentation. In addition, students will be guided in the understanding of concepts and how to apply them to real life situations. This content area helps students learn about the origination of values and how attitudes and values influence our actions and the actions of others. Students learn how to integrate concepts and factual information through inductive and deductive reasoning. Analyzing, synthesizing, and problem-solving are major objectives of the social studies program.
---
7th Grade World Geography/Ancient History
Students in the seventh grade Social Studies explore world events occurring between 1000BCE and AD 1750. We will be examing the enduring impact of the early civilizations of Central & South America, West Africa, Greece and Rome. The class will be analyzing the effects of geography, economics, religions, and governmental structures on human interaction. There are also many skills and methods social scientists use that will be introduced and practiced throughout the year.
Ancient World History continues our students' study of ancient world history and continues up through the early European exploration of North America. Comparative methods are used using contemporary events as a way for students to determine the meaning of our subject.
---
8th Grade American History
8th grade social studies covers American History and United States Government from colonization in the late 16th century to Reconstruction after the Civil War. This is the first sequence of American History that will be completed in the 10th grade year with Reconstruction to the Present. The course of study contains the topics of colonization, independence, forming a new government, new challenges, expansion, industrialization, and the cause and effects of the Civil War.
Besides historical content, we will focus on the common core, citizenship, cause and effect relationships, opinion and fact, interpretation of resources, problem solving, presentation skills, quality of work, and analyzing skills. Although content builds on past historical knowledge, our focus will be to look deeper at the origins of our country today.